743 is a 
prime number from 701-800
. 743 has 2 factors, 1 and 743. It is the 132nd prime number, and the seventh prime number from 701-800.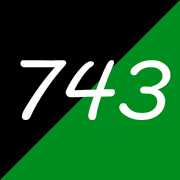 — 743 can be divided by 1.
— 743 cannot be divided by 2-742.
— 743 can be divided by 743.
Relationship with other odd numbers
Edit
The numbers before
Edit
The previous prime number is 739.

739 and 743 are four numbers apart; therefore, they are cousin primes.

The previous prime number before 739 is 733.

737 is divisible by 11, therefore not a prime number.
The numbers after
Edit
Ad blocker interference detected!
Wikia is a free-to-use site that makes money from advertising. We have a modified experience for viewers using ad blockers

Wikia is not accessible if you've made further modifications. Remove the custom ad blocker rule(s) and the page will load as expected.