857 is a 
prime number from 801-900
. 857 has 2 factors, 1 and 857. It is the 148th prime number, and the ninth prime number from 801-900.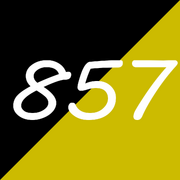 — 857 can be divided by 1.
— 857 cannot be divided by 2-856.
— 857 can be divided by 857.
Relationship with other odd numbers
Edit
The numbers before
Edit
The previous prime number is 853.

853 and 857 are four numbers apart; they are cousin primes.

The previous prime number before 853 is 839, 14 numbers away.

841 is the square of 29, 847 is divisible by 7 and 11, and 851 is the product of 23 and 37.
The numbers after
Edit
The next prime number is 859.

There are no odd numbers between 857 and 859. As a result, they are twin primes.

863 is the next prime number after 859.

857 and 863 are six numbers apart; they are sexy primes.
Ad blocker interference detected!
Wikia is a free-to-use site that makes money from advertising. We have a modified experience for viewers using ad blockers

Wikia is not accessible if you've made further modifications. Remove the custom ad blocker rule(s) and the page will load as expected.